the williamsburg cat sitter
Brand + WordPress Development
A one-page website that helped the business grow 1000x in 2 years
Monica is a cat lover whose dream was to change careers and become a cat sitter in Williamsburg, Brooklyn. After 2 years of organic traffic growth, the website helped grow her business by 1,000%, she was able to quit her day job, and she is doing what she loves most: Care for the furry ones.
Team
Shirley Bustamante (Brand)
Pablo Vallejos (Visual Design)
Silvia Mendez (UX, Project Management)
Maria Gretel Alvarez (WordPress)
Categories
WordPress design and implementation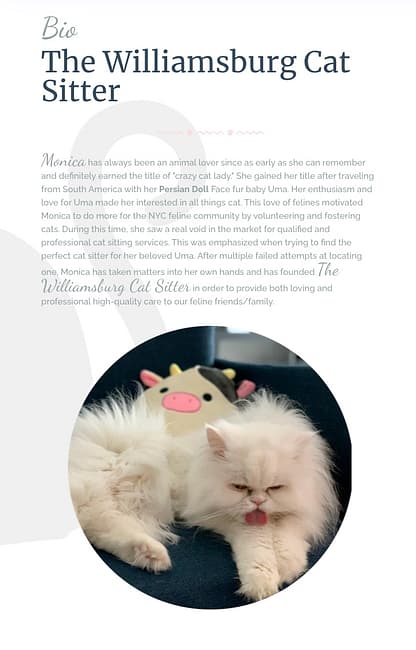 "Creating a proof of concept website for an innovative solopreneur"
When Monica reached out to us, she had this idea in her mind but didn't know exactly how to make it happen. She was depressed in her day job and dreamed with caring for cats, her love and passion.
The Dotsur LLC helped her run a quick market research to validate the need of the cat sitting business in the area, and worked closely with her to create a brand and website that matched her dream and personality. We recommended to add the minimal features and information necessary to launch a website that converted and helped her learn about her new customers.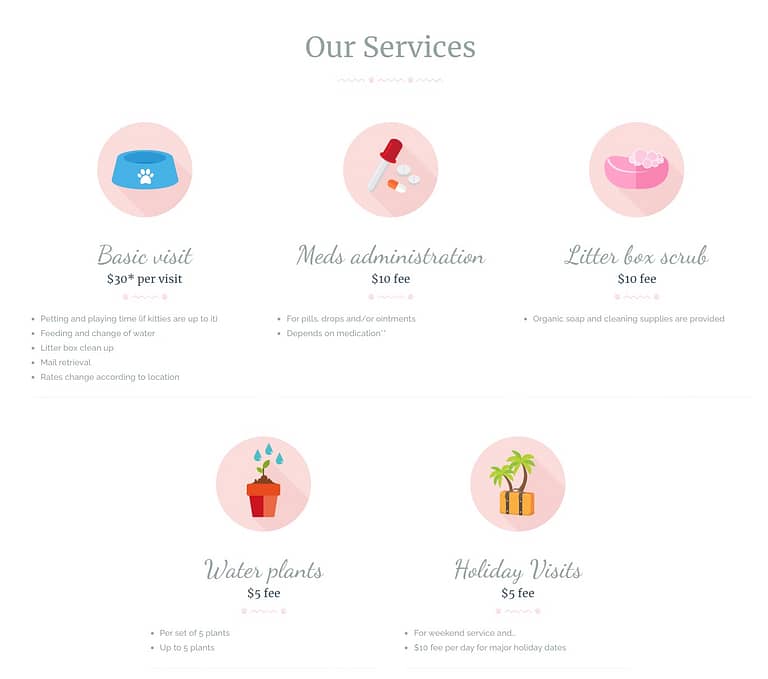 "Create a compelling, low-maintenance one-page website "
We didn't want to create a convoluted website that would require hours of a digital marketing team to increase the SEO ranking. The owner of The Williamsburg Cat Sitter still had her day job and this new project would be run during her spare time. She was also not tech-savvy, so the website needed to run by itself and be compelling enough that the target market would find it without running tons of ads or having to spend more time or budget on maintenance or lots of marketing.
SOLUTION
"A website that communicated the love of kitties"
If you are a pet owner, you consider your pet as part of the family. It is very difficult to find someone who would care for your cat when you are at work or traveling for business. Monica loves cats, and cats love her back. We developed the WordPress site to communicate this passion to the prospective customers and we did it through custom illustrations and a color palette that conveys Monica's personality and her love for cats. 
Mobile App and Logged-in section on the website.
Logo and Brand
Our team has two of the best logo and brand designers I have had the chance to work with. We created the logo because our client wanted to convey her love for her pretty cat "Uma".
Content Design
SEO friendly.
Give all the information the users will need to decide to schedule a meet and greet between Monica and the furry friend.
Wireframing and mockups in Adobe XD with interactive prototypes to illustrate how the website would work.
Meet and greet questionnaire done in Google Forms linked to the owner's email address.
Agile Scrum
Agile Scrum Methodology for Distributed Teams is always used for all our projects. We involve our client in weekly demos to show what we have accomplished and get fast feedback. 
Team Management
The development team was a distributed in South America. Open communication was kept using Slack, Zoom, and Atlassian Jira.
The Williamsburg Cat Sitter made $6,000 during its first year. The cost of the brand and website development was paid in the first 4 months.
The business is now making $100,000/year only two years later.
The owner is healed from her depression, quit her day job, and is now dedicated 100% to her startup. "I am living the dream", she said during a conversation we had last month. 
They are looking for two extra assistants to help them expand the business to other two neighborhoods in Brooklyn and Manhattan given the rise in demand for this service and the high recommendations from their current customers.
The website has been working perfectly in tandem with some Instagram ads with no need to make updates or spend thousands of dollars on advertisement.
The business has 5 stars in Google Reviews and is growing organically, which we recommended to the owner. It gave her time to learn and adapt.
"Monica is AMAZING! After she came to my house to meet my cat, I knew immediately that she would be in good hands. She was so affectionate towards my cat and really "rolled out the red carpet" for her haha! The abundance of videos and photos I received during her visits were so appreciated and SO adorable! Very professional and organized as we both filled out forms in case of emergency etc etc. Highly recommend to anyone that might be nervous to use one of the mainstream apps like Rover or Wag etc."
Ask ahead! We will do our best to reply as soon as possible.